If you are a teen who likes to read, you should come to a meeting of the Teen Book Club.
The group meets every third Monday of the month at 4:00 p.m. at the Main Library and is led by Jaime Gross.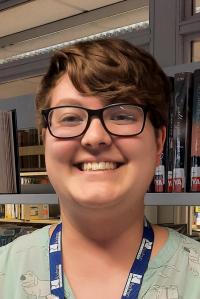 Joining the group doesn't mean a commitment to attend each meeting. Teens can pick and choose which titles they want to read.
Here's what Jaime has to say about the book discussion group.
How do you choose the selections?
I usually compile a list of two or three young adult or even middle grade titles for each major genre (fantasy, science-fiction, contemporary, historical, horror) that I've previously read and thought would make for a good discussion point. Then I give my suggestions to the group and let the teens vote for the titles that interest them the most. I try to make sure we pick at least one book that each person is interested in. We usually pick six months at a time, and I also take suggestions from the teens if they have any.
What can teens expect when they attend one of your meetings?
We usually talk about the selected title for a bit and then either do a craft or some other kind of  activity or game related to the book. For example, one time we read a mystery and the teens were challenged with a mini-puzzle/escape room type of activity to complete. We also usually have snacks available during the meeting. It's pretty low-key and just meant to kind of hang out and talk about books and meet other readers their age.
What would you say to someone who is thinking about attending a meeting but isn't sure if it's  for them?
I would say they should at least give it a try and show up. We read a variety of books and talk about many different topics during the meeting so we usually have something for everybody. You won't know if it's for you unless you attend and find out.
Do you have to attend every meeting, or is it OK to pick and choose which discussions you attend?
The teen book club is super flexible. You can come every time or you can just come for the books you're interested in. I also encourage teens to come even if they didn't finish or read the book. Part of the point of the club is to meet other teens who like to read and to talk about books.
How long have you been moderating a book club?
​We started the Teen Book Club in January of 2020 and continued to meet virtually during the pandemic. We started meeting in person again the summer of 2021.
Why do you enjoy facilitating your club?
I love to read books and enjoy sharing my love for books with other readers. It's fun to come up with a fun craft or activity that goes with the book of the month and to encourage teens to find something they like to read.
Additional Comments:
I am always up for suggestions on how to make the Teen Book Club better. I welcome any ideas for future books, crafts, or activities and anything that would get teens interested in attending this program.