You must be a registered borrower to check out materials from the library. Library cards are free but identification is required. A parent's signature is required for anyone under the age of 18.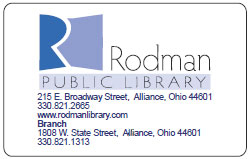 When registering for a Rodman Library card, you must present a photo ID such as one of these:
Current driver's license
State ID or state Social programs card
Employment badge with photo
School ID
We do not accept birth certificates as a form of ID.
If your ID does not have your current address, then you must also produce a utility bill, bank statement, or check (i.e., something of an official nature) which corroborates the current address.
Library cards must be renewed every three years.