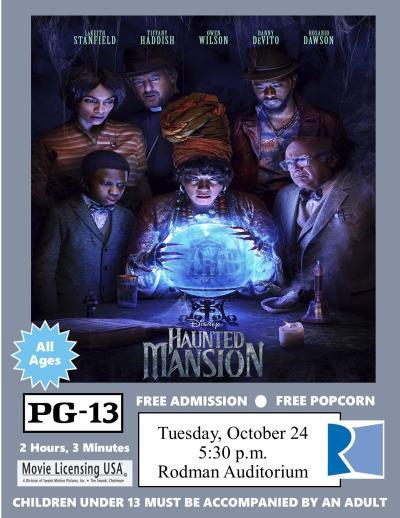 At 5:30 p.m. on Tuesday, October 24, the library will show "Haunted Mansion," a 2023 horror/fantasy that is inspired by the classic Disney theme park attraction by the same name in which  a woman and her son enlist a crew of so-called spiritual experts to help rid their home of supernatural squatters. The film is rated PG-13 and runs 2 hours, 3 minutes.
Attending movies are always free at Rodman Public Library and freshly popped popcorn will be provided thanks to Friends of Rodman Public Library. No registration is necessary for the all ages event, however, children under the age of 12 must be accompanied by a caregiver.
For more information, call 330-821-2665, ext. 217.