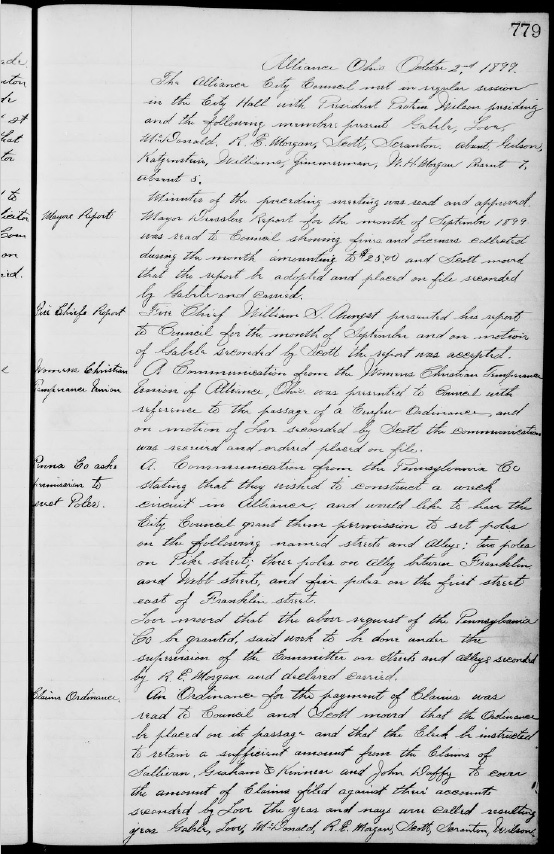 Rodman Public Library recently collaborated with the City of Alliance to microfilm and digitize City Council minutes and ordinances dating from the incorporation of Alliance in 1854 through 1924. The 12,998 pages scanned are bound in large ledger books that measure up to 3" thick and 11" x 17". They were sent to Backstage Library Works in Bethlehem, Pennsylvania in late July for microfilming and digitization. In December 2017, 1,742 PDF documents were returned for uploading onto the City's website. The one-of-a-kind city documents are now available for use by anyone with access to the Internet at any time of the day or night.
This is Rodman Library's third digitization project with Backstage "We have had excellent results from our projects completed by Backstage over the past four years," reports Karen Perone, Head of Technology and Technical Services at Rodman Public Library. "It is good to know that we have a resource nearby that can handle large format rare documents with such expertise." Previous Backstage projects included digitization of The Alliance Review from 1916-1920 and more recently Recreational News, a local newspaper from the 1920s.
"One of Rodman Public Library's goals is to preserve and share the many historical documents of Alliance," said Pat Stone, Director of Rodman Public Library. "We have the expertise and resources to assist the City in this important project."
As outlined in Ohio Municipal Records Manual, the City of Alliance is required to permanently retain copies of all City Council minutes and ordinances. The only copies of these documents prior to this grant project were in the bound volumes. Today, the earliest records of the City are preserved for the future in the form of microfilm and digitized files. Mayor Alan Andreani remarked, "The City was very fortunate in Rodman Public Library securing a grant and providing us the ability to digitize and microfilm the ordinances and minutes of City Council records from 1854 to 1924. This process provides safekeeping and easier access to these wonderful historical documents."
The master negative film reels will be stored in the climate-controlled vault at Ohio History Connection and the master print film reels will be stored in the Archives of The University of Akron. These locations were selected following the guidelines for retention of municipal records. Both storage sites are members of the Ohio Network of American History Research Centers.
The digitized documents are available in a searchable archive for older documents on the City's website. The full text of any documents that were typewritten are searchable PDF files. All others are accessible by date. To locate the archived documents, go to www.cityofalliance.com/archive.aspx.
Mayor Andreani concludes, "The City of Alliance is pleased to be able to preserve and protect its historical records as well as provide online access to these documents to our residents. None of this would be possible without the assistance provided in the grant process by Karen Perone and Pat Stone of Rodman Public Library. I'd like to also thank Jennifer Crist and City Auditor Kevin Knowles at the City of Alliance for their participation and thank them for all for their efforts and cooperation in this process."
The project was supported in part by an award from the Ohio Historical Records Advisory Board (OHRAB), through funding from the National Historical Publications and Records Commission (NHPRC), National Archives and Records Administration. For more information about this project, call 330-821-2665, ext. 101.