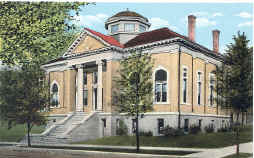 Andrew Carnegie donated $25,000 for the building, which required a little more than a year to construct. Dedication ceremonies were held on September 6, 1904 on the High School grounds. The new building was located on the northeast corner of South Arch Avenue and High Street.
The new building was built from light brown brick with Indiana limestone trimming, tile roof and a copper covered dome.
The dedication ceremonies were highlighted with addresses by Mount Union College President A. B. Riker, state commissioner of common schools E. A. Jones, and State Librarian C. B. Galbreath.
During its first year of operation, the library circulated 40,126 volumes to 3,150 patrons. The collection consisted of only 4,638 books.