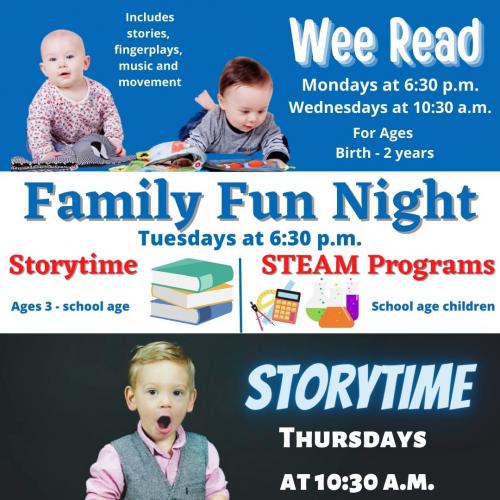 Three of Rodman Public Library's most popular children's programs will provide lots of winter fun when they return for a 12-week run this month.
The programs – Wee Read, Storytime, and Family Fun Nights -- will run between January 16 and April 6 at the Main Library.
No registration is required to attend any of the three programs, which feature different themes and activities each week.
Wee Read will be offered on Monday evenings at 6:30 p.m. and Wednesday mornings at 10:30 a.m. between January 16 and April 5. Children, ages birth through two years, and their parents or caregivers are invited to attend. Wee Read includes stories, fingerplays, music and movement.
Storytime, intended to encourage lifelong readers through stories, music, movement, and activities, is open to children, ages 3-5, and their adult companions each Thursday morning at 10:30 a.m. between January 19 and April 6. Evening Storytime sessions will be held each Tuesday as part of Family Fun Night.
Family Fun Nights, offered on Tuesdays at 6:30 p.m. between January 17 and April 4, are both entertaining and educational for children, ages 3-12, and their parents or caregivers. Children will listen to stories before participants break into small groups to visit various stations where they will play games, complete challenges and create crafts.