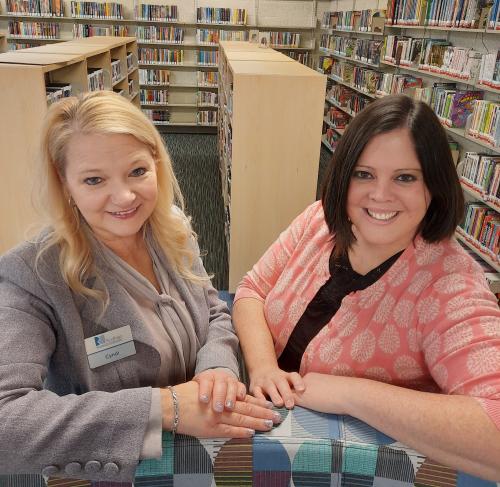 The new year brings big changes to the children's department at Rodman Public Library.
The children's area itself has gone through a "refresh" with new carpet, paint and furniture, as well as some fun added features such as a video gaming area, new toys and games, and a seating area where adult companions can relax while little ones read and play.
[SEE PICTURES OF THE REFRESHED AREA]
With the retirement of Janet Metzger, who served as head of children's services for the past 15 years, leadership of the department is also in transition.
Stacy Digianantonio, who has been at RPL since December 1, 2014, is taking over as head of the department. Meanwhile, Cyndi Shutt, who has been working in public libraries for 19 years, will be the children's program manager.
"I will be taking on new responsibilities in my new position, but will still be involved in children's programming," said Digianantonio, a graduate of Kent State University.  "I love interacting with the kids and get so much enjoyment out of doing programs for them.  It is so rewarding to see children excited to come to the library and I will continue to work hard to provide them with fun, new programs.  It truly is an honor to serve the Alliance Community."
Digianantonio believes the updated children's space will make Rodman Public Library even more inviting for youngsters.
"I think the kids are going to love the refreshed children's department," said Digianantonio. "They are going to have so much fun at the library and their parents will have a more welcoming space to relax and interact with their children."
 Shutt agrees that children and their parents will be pleased by the space.
"The children were wowed by paper decorations over last year's Summer Reading Program," said Shutt.  "I cannot wait to see their faces light up when they see the refreshed room. I believe it is calm and inviting for all ages."
 Shutt, who has been at RPL for two years, originally went to school to be a dental hygienist, but found her true calling in working with children.
"I am thankful for the opportunity to serve our community in this new position," said Shutt. "Whether I am reading at a school, doing outreach or simply finding a child a book, I will be doing what I love."
Shutt says patrons can expect the same commitment to quality programming that Rodman Library has demonstrated in the past.
"We plan to continue all of the great programs already established but plan on adding some new programs to our lineup," said Shutt.