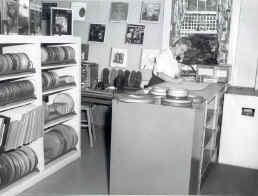 *Starting in October of 1948, the first 16-mm films were circulated under the direction of Miss Rosanna Johnston. The library was participating in a Regional Film Project sponsored by the Cleveland Public Library with a grant from the Carnegie Corporation of New York. 
The purpose of this program was to determine if medium-sized libraries could successfully loan films. During the last three months of 1948, the library circulated 390 times the fifty-one films it had received. There was an aggregate audience of 14,868 for the film showings.
[Librarian] Sohn found the film circulating endeavor a popular and useful service. When the Carnegie Corporation's support of the project ended in 1950, the Cleveland Public Library became the administrator of the Regional Film Project in which there were ten northern Ohio libraries. As a member of the organization, the Carnegie Free Library received forty or fifty films "each month for ten months of the year." Mrs. Eugene Swallen succeeded Miss Johnston in the Film Department.
*Excerpted from Public Library Service in Alliance, Ohio: 1885 to 1956 by Leah V. Agnoni.