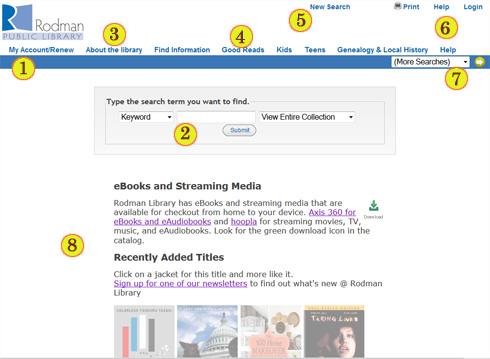 My Account/Renew
Select this option to see what you have checked out, when the items are due and to renew them, how much money you owe, reserve titles, and cancel reserved items. When you log into your account, you can save your favorite searches and have the library notify you by email when a new title matching your search is cataloged. You can also select how you want the library to notify you when your reserves are available and optionally keep your reading history or pay your fines with your credit card.
How to search
Select the type of search you want to do by clicking on the dropdown arrow next to Keyword. Enter your search in the box and then press the Enter key or click the Submit Button.
About the Library/Contact Us
This option offers general information about Rodman Public Library, its services, and its collections. If you have a question that you would like to have the reference department answer, select this button and then the "Contact Us" link that will appear. They will respond with an answer via email, regular mail, or telephone depending on your preference.
Good Reads
Looking for something good to read? This option will offer links to lists of Newly Cataloged Titles, Award-Winning Titles, and Reader's Advisory services if you're stumped and looking for something different to read.
Search Tips
New Search: Start a new search from any screen with this button.
Help: The Help button will direct you to pages that will help you use the catalog more effectively.
The dropdown box for "More Searches" will offer all the search choices in #2 above with the addition of Author/Title search. This is very helpful when searching for classical music CDs or works by prolific authors. You may also select one of the indexes in the list to get search tips specific to that index
Highlighted Titles
Click on any of the highlighted links or book jackets to discover what's new in the library's collection.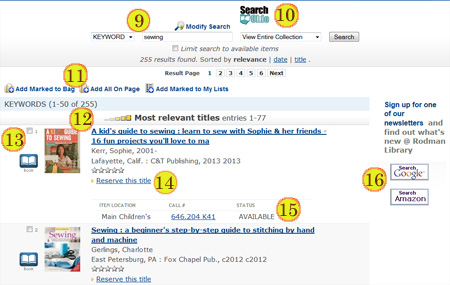 Search Box
You can search the catalog from any page by using this search box. Select the type of search you want to do from the pull-down list, enter your search in the box and press <Enter> or click the <Search Button>. If you only want to find items you can check out, check the box labeled Limit search to available items.
SearchOhio
If you are unable to find what you want in the Rodman Library catalog, try SearchOhio. Millions of titles from public and university libraries around the state are at your fingertips.
Book Bag
Select one or several titles during your search session by putting them in your Book Bag. This feature works the same way as online shopping carts that you find on your favorite online shopping sites. To view what you have selected, click the View Book Bag button. You can reserve the titles in your bag, email the list to yourself, or add them to a Wish List for future use.
Search Relevance and Book Jackets
When you search the catalog, you will note a relevancy bar in the results display. The more bars, the more relevant the title is to your search. Book jacket images (when available) are displayed to help you identify the title along with icons that let you know whether the item is a book, video game, music CD, DVD, or other format.
Reserve Options
If you want to reserve many items at a time, check the checkbox to the left of the book cover to place them in your book bag.
When you find something that you would like to check out, click the "Reserve this title" link to reserve a single item. During the reserve process, you will be asked for your name, library card barcode number and where you would like to pick up your item. The Library will call you when it is ready for you to pick up.
Availability
A list of copies, where they are located, and whether they are available is listed here along with the call number that you will need to find the item on the shelf.
More Information
If you want to further your search, you can search Google or Amazon by clicking these buttons.