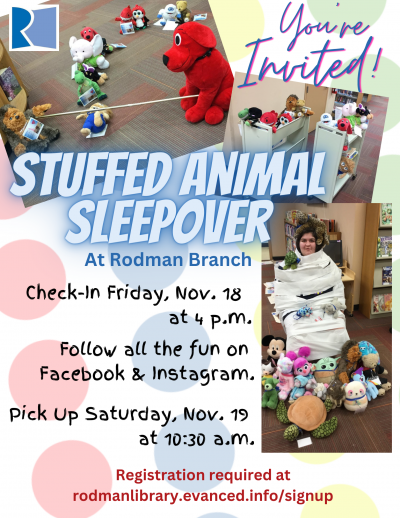 Calling all stuffed animal friends!
Do you need a getaway? Would you like to meet new friends?
If so, on Friday, November 18, your human can drop you off at The Branch Library at 4:00 p.m. for a sleepover. We will have check-in activities to complete and a story.
Stuffed animals will get to enjoy activities like cart races, movies, reading, and many more shenanigans throughout the night. Pictures will be posted on the library's Facebook and Instagram pages so their humans can keep an eye on all the fun during the sleepover.
Humans can enjoy a light breakfast of doughnuts and juice when they pick up their stuffed animal friends on Saturday, November 19 at 10:30 a.m.
Space is limited and registration is required.
For more information, call 330-821-1313.