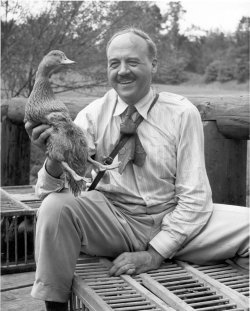 Clarence J. (Bill) Rodman, benefactor to many institutions and organizations, made possible the construction of the present Rodman Public Library building. His early 1960s support for the Alliance library gave the impetus for expansion and for a facility that has served the community well for over 40 years. Mr. Rodman's donations extended to Ripon College, Parsons College, and Mount Union College, institutions from which he held degrees.
Born in Milwaukee in 1890, son of a minister, Clarence Rodman displayed an early interest in the world of business. He earned advanced degrees in chemical engineering and began his career with Eastman Kodak and Westinghouse. Advancement in his career brought him to Alliance, where he managed the Buckeye Jack Company and served as an officer of the Alliance Manufacturing Company. His scientific and business knowledge soon prompted Rodman to organize his own company, the Steel Sanitary Company, followed by Alliance Porcelain Products, AllianceWare, and Alliance Tool Company.
In addition to his businesses and philanthropy, Mr. Rodman was active in civic affairs. He served on the Alliance Board of Education, was a director of two local banks, and provided leadership in Alliance's development corporations. Other memberships included the Rotary Club, Wranglers Club, Exchange Club, and Masons. Mr. Rodman was a veteran of World War I. He died in 1972.
--February 26, 2005
Find out more about Rodman Library's history